Resources for Musicians
SOCAN Foundation: Canadian Grants, Awards, and Programs
An insightful interview about the importance and essentials of grant writing for musicians in Canada.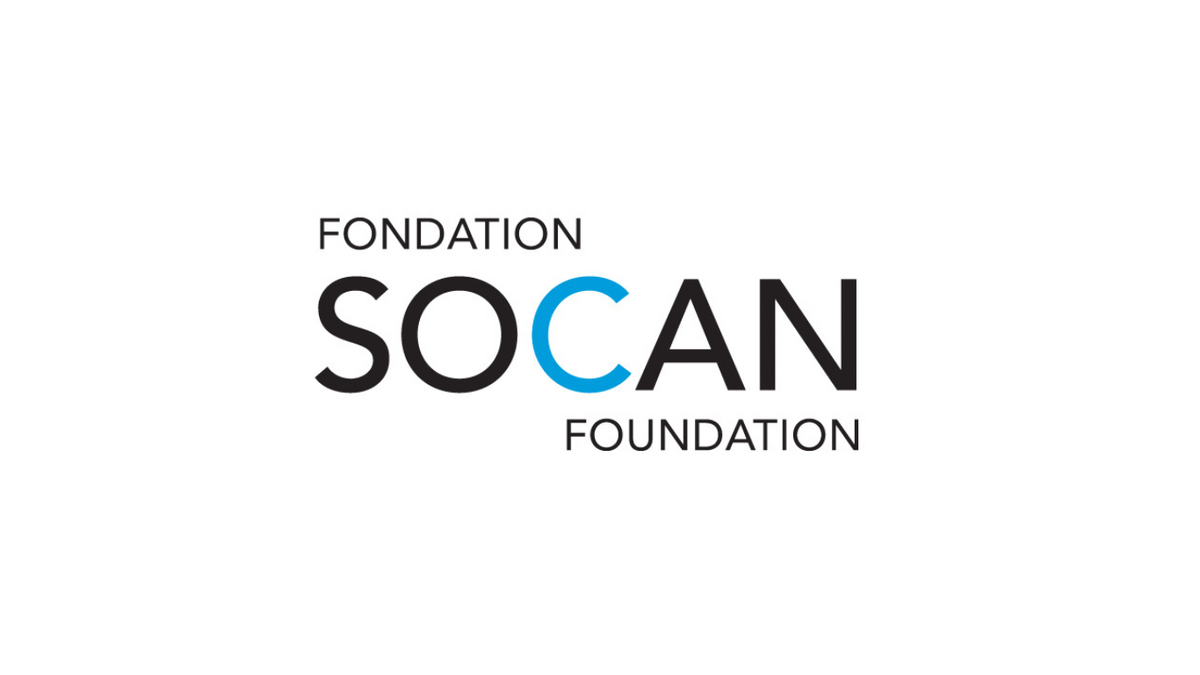 Last week we spoke with Holly Hudson, Program & Development Coordinator at the SOCAN Foundation, about the importance and essentials of grant writing for musicians in Canada, including some of the best practices, and highlights from Holly's past experiences.
About Holly Hudson:
Holly joined the SOCAN Foundation team to introduce and enhance programming available to music creators across Canada. A freelance grant writer since 2016, and a professional grant writers since 2018, Holly served as the Funding Coordinator at Valeo Arts Management, working to nurture a diverse roster of Canadian Talent, including A Tribe Called Red, Haviah Mighty, Jean-Michel Blais, and Jeremy Dutcher. Holly's passion and expertise lies in helping artists develop sustainable careers as creators. Getting her start in the music industry by interning at Arts & Crafts Records, she has held positions at Bell Media, CBC, and Apple Music.
---
Holly, can you tell us a little bit more about the SOCAN Foundation? What is your mission and goals for 2022?
SOCAN Foundation is a registered non-profit, operating as part of the SOCAN Organization. To clarify, SOCAN stands for the Society of Composers, Authors, and Music Publishers of Canada. We are a performing rights organization that represents over 100,000 songwriters, publishers and composers worldwide.
Despite SOCAN being a private company, it's a member organization, which means their responsibility is to provide services to their members, which is how the SOCAN organization came to be in 1991. As the foundation, we have our own board that is separate from SOCAN, although there's often crossover. Also, we just celebrated 30 years!
Overall, SOCAN Foundation's mission is to foster, sustain, and promote the creation of Canadian music. However, we work hard to provide opportunities for equity-seeking groups and eliminate traditional barriers to entry for the music industry. We do this through the three streams of services that we offer: grants, awards, and programs. What sets us apart from a lot of the different granting bodies in Canada is that we specifically offer a lot of support for composers, not just artists.
Can you maybe tell us a little bit more about yourself?
How you came into this position, and a little bit more about what you do at the foundation?
Of course. I began working at SOCAN Foundation in April 2021. I'm originally from London, Ontario, and graduated from X University, sometimes known as Ryerson University. I studied Media Production, specifically radio and television, because I wanted to work in the music industry, but had always been interested in the philanthropic side of it.
During university, I interned at an artist management company called Arts & Crafts, which is a well-lovedToronto-based indie label. I worked with managers who taught me about grant writing, and while I was at Ryerson, I had a lot of friends who were artists, so I decided to start freelance grant writing. I learned it was a nice way to make some extra money. Anyway, I bounced around a bit after school, then two of the artist managers from Arts & Crafts started their own management company, and they took some of their big acts with them. They were aware that I was doing freelance grant writing, so they asked me to join their new company as the Funding Coordinator, where I'd be doing all the researching of the grants, writing and reporting, doing the budgets, etc.
I was at that job for over two years, and I was hoping to make a switch from grant writing to grant administration, where I could have an impact on developing programs. That's how I became Program & Development Coordinator at SOCAN Foundation. I develop new funding programs and awards, and manage and  optimize the programs we currently do have.
Amazing! Can you speak about some of the current programs that you guys currently have? I'm aware of the Equity X Production Mentorship program that is currently being promoted, as well as the Screen Music Laboratory. There is also the TD Incubator for Creative Entrepreneurship coming soon. Who would be ideal to apply for these grants or programs?
For sure. I'll go through grants, awards, and then programs.
We run grants all year long, and we have grants for individuals, groups, and music publishers. Right now, we have four grants. The first is a Career Development Grant, which is a few hundred dollars, and this is just a really great, low barrier to entry funding opportunity. All you have to do is show that you have 2 SOCAN royalty payments of any amount over that past year, and you will be able to access this grant.
We have a Travel Assistance Grant, and that's kind of on hold right now. But if you do have travel that you're invited to do as a musician, then you can apply for this grant, which is up to $1000. We also have a Professional Development Assistance Grant which can be put towards educational and career development activities. This grant is great for artists to look at right now because tour and travel is limited, so maybe it's a good time to take up courses or seminars.
Then we have the Work Commissioning Assistance Grant, and the deadline is coming up on February 27th. This is a pretty unique grant to SOCAN Foundation. This grant is for you if you are commissioned to create a new piece of work. An example is, say you're an artist and you know somebody who is starting a podcast, and they want you to do the theme song for it, or create some interstitial music. You could get this grant and it would pay for them to pay you to create this new song. We are always looking for ways to incorporate composers into our programs..
In regards to our awards, we just finished the selection process for three, which include the TD Indigenous Songwriter Award, Her Music Award (presented by Bandzoogle), and the Black Canadian Music Award (presented by Sirius XM Canada). We try to highlight equity-seeking groups and put the spotlight on creators that deserve recognition. We will be announcing the winners for those within the next few weeks and months. The deadlines for these are usually at the end of the year, so we will be running those again later in 2022.
Besides that, over the summer we run a lot of awards for composers, so we have an award for young composers, emerging screen composers, and a young Canadian songwriter award. The deadline for these will be in June 2022, and they are for people under 30. A nice thing about them is that you don't have to report on your activities like with a regular grant, you simply apply and if you are chosen, you get the prize money.
Then we have programs, which is mostly what I do. We have the TD Incubator for Creative Entrepreneurship. I've started managing this program and I am very proud of it. This program is for artists to develop business skills, and so we try to look for artists more on the emerging side. The program combines all the best of what we do, because you get a $3000 grant, and then you're part of an educational webinar series, which last year had about 30 hours of content. At the same time, it's a mentorship program, so we asked the chosen participants who their dream mentor would be, and we try to use the SOCAN connection to secure these mentors. Last year we had 28 program participants, and some great artist mentors like Chantal Kreviazuk and Donovan Woods, as well as people in the industry like sync agents, music supervisors, and some major streaming services' playlist editors. I think that's probably the most valuable part of the program. The deadline is coming up in April 2022, and it will run throughout the summer and fall.
We also have our Equity x Production Mentorship Program, and the deadline for this was just a few days ago, so we are in the process of selecting the participants for that. This is a program that is a course series for female-identifying artists and producers to learn production skills. This year we are doing a Logic Pro focus for the English program, and an Ableton focus for the French program, and we'll compare and see what the participants like better. This program aims to help address the gap between the number of female and male producers in the industry, and to help women break into music production.
Additionally, we have a Screen Music Laboratory for emerging composers that runs in the fall. This is a really cool program for composers because they work with film directors to score clips in real time, and then present it to music supervisors and other relevant stakeholders. I personally don't work on that program, but it's fantastic!
It's wonderful that you are predominately managing the Incubator program to specifically close the gap within the industry for musicians. What are some of the business or entrepreneurial aspects of that program? Maybe some of the things that its alumni have really appreciated, or some of the business acumen related things that musicians need to learn?
Once the participants are selected, we try to identify what exactly they need to work on related to their business as an artist entrepreneur. This is the phrase we go back to a lot to help them see their career as an 'artist entrepreneur'. One topic they have identified as a knowledge-gap is publishing. Many are unsure where to publish, if they should be paying to publish their music, if they need a manager to do that, etc. So to tackle this, we had some sessions on publishing and distribution, information on mechanical and performance rights, etc. We did sync licensing, which is a great way to make money in their early stages of their career, and so we worked with a lot of sync agents on how you can properly pitch to them, and how you can make music specifically relevant to sync houses.
Marketing, of course, is always a big aspect of an artist's business and it's always changing. Artists need to brand themselves, so we had some people from the PR side come in and speak with them, as well people from the ad-buying teams clarifying on how to do that. We also had someone from TikTok Canada speak to them about how artists can optimize their music on the platform. We had a lawyer come in and talk to them about contract negotiation, because that's an important skill for artists. Data analytics sessions were important, they gave the artists  insight on how to take the data that they get from Spotify or Instagram, and utilize that when they are marketing and pitching their music to people.
We also had some speakers come in and talk about NFT's, which was interesting for the artists. I don't know how many of them are actually going to incorporate that into their careers, but it was fun and a relevant topic for that year's incubator. So this was the educational component of the program this past year, and it provided us with a lot of insight into how we can open up these topics to other programs, because these are the questions that seem to be on a lot of emerging artists' minds.
"You need to treat it like school, so you need to look at the deadlines in advance, and mark them on your calendar, because you need about a month to prepare to apply."
In regards to grants, what are some of the best practices for artists to consider to increase their chance of getting in?
To start from scratch, when it comes to grants, you, as an artist, have to see it as a project. A lot of artists will see their career as one kind of amorphous thing, and they don't like to actually think about the separate components and the projects that it takes to move a career along. So for grants, you need a start and end date, which can be hard to determine because, you know, you likely haven't started the project yet, and maybe it's contingent on getting the grant, to be able to actually do the project. But the first thing they'll always ask is when it's going to start and end, so you really need that to even begin.
What I would tell artists who are interested in securing grants, is that you need to treat it like school, so you need to look at the deadlines in advance, and mark them on your calendar, because you need about a month to prepare to apply. There are no exceptions when it comes to the deadlines, and I've yet to see a funder accept something after a deadline has passed.
Another tip I would give is to write your grant in a Google Drive, or Word Doc, because you can often just modify it, and use it to apply for different programs. For example, SOCAN Foundation has the Professional Development program, but so does the Canada Council, and FACTOR has Artist Development. Sometimes you can't pull up your application from the portal once it's submitted, to see what you wrote. So keeping copies of your grants allows you to modify them. Just like a resume and cover letter, and this allows you to constantly edit and apply for numerous grants, which may increase your chances of getting funded.
It's also very important to remember that there are three main components of a grant. Part one is the written component, which involves answering questions, and it's almost like a mini essay about why you should get the money. Part two is the budget, which I think a lot of artists will struggle with because maybe they don't like to think about it, or it's out of their comfort zone, but in Canada, a lot of the grant portals make the budget super easy, you just plug the numbers in.
An important thing to remember in regards to the budget is that you always want to make sure it balances back to zero, so you need to have the same amount of expenses as the project's revenue. What is usually brought up by artists is that they will say "well realistically, the project will probably not make enough money to cover the cost of the project itself" and the tip I have in regards to this is that there is always a spot on every grant budget called "Applicant Contribution". Let's say the project costs $20,000, and for the revenue let's say you get $5,000 from one grant, and another $5,000 from another grant, and so you can say I'll contribute $10,000 of my own money, and this is how you balance it. This is a tip every artist should know, without getting too in their heads like "oh, I'm not actually putting in $10,00 of my own, or maybe I'm making the budget look bigger than it really is going to be", but the grant administrators know that it's okay to be flexible using the applicant contribution number to balance your budget.
Part three of the grant is the supporting material, which is why you need to get started in advance, and that could be anything from examples of your work like an MP3 of a song, to invitations from a festival that you want to perform at, and you'll need actual proof to show they invited you to perform. You can also use letters of support from somebody in the music industry who's noticed you, but I will get back to this. Another example of support materials is a letter of confirmation, to say that you are working on an album and that you'll be having so and so producer working on it; and for this you will need a biography for him/her, and a letter stating that he/she will actually be the producer. It helps if they're in Canada, of course, because Canadian grants want to support Canadian individuals in the music industry.
Going back to the letter of support, I tell artists that when you are asking someone to do a letter of support for you, you can either have them write it, or you can suggest to write it and have them sign off on it, if you agree with what I've written. The reason I point this out is because it is a big ask for somebody to write a letter about you, and they might not actually know you that well. So I always say you can have a letter that you've written yourself, and have them sign off on it, or have them edit it a bit then sign off on it. The more support material you have the better. It could be an artist further along in their career who can state you opened for them, or they saw you and enjoyed your music, or someone in the industry who has taken notice of you. This will set your application apart by a lot.
Another tip, which should be obvious, is to make sure that all of your support material, specifically links, (i.e. a YouTube link) are not broken. Or the Google Drive link you provided is set to private. It'll take more time to search you up or seek you out, and so if your links are not working, that's an automatic no.
Spell check is another obvious tip, because poorly written grants will be discarded pretty quickly. On that note, I always tell artists and grant writers that it's okay to be casual in your grants, and to speak colloquially. You don't need to be writing it in perfect academic English, because you're an artist and you want your personality to shine through the grant and set it apart. As long as your grammar and spelling is correct, then it's okay, you don't need to write it like an English essay.
Another piece of advice that I give to people who are ready to write grants is to straddle the line between humility and confidence. What I mean by this is that you have to show that you're confident that your project will succeed, and you are dedicated to your career and artistic practice. At the same time, you need to show humility in that you are seeking support from this funder and that you're looking for community-mindedness in your practice.
I think my next question would be, is it a smart idea to hire someone to write your grants for you? And if you do, what are some of the best practices to consider in terms of communication?
That's a great question. I've done freelance grant writing, but I also work with artists to try to empower them to write their own grants. I think that if you're an artist, it's not supposed to be prohibitively difficult to write a grant. You're not trying to get into a masters of English program. So if you hire a freelance grant writer, usually they'll take an upfront fee, maybe $50, and then they'll also write in 10-15% fee under 'admin' or 'grant writing fee', and I've done that many times. If the artist thinks that writing the grant is not a good use of their time or they really don't feel confident in it, then sure, maybe they do want to give away that 10-15% of the grant plus pay for the grant writing fee. But I think that a lot of artists underestimate themselves and a lot of the time it is about the sample of the music that you put in, and the written application part is not as important. If your music sounds good, that's probably going to be the thing that decides if you get the grant or not. Sometimes I will work with artists for free and read over their grants, and they ask "can I just hire you to write the grant?" If I can spend some time talking with them, I usually say you should try to do it yourself. Or ask a friend, or somebody who is good at reading and writing to look it over and that's probably going to be as good as hiring someone. I say this because the artist always knows the project best themselves. It can be hard to communicate your intentions to somebody that you don't know. Like what your history is, your lived experiences, and sometimes your finances, if that's personal to you.
On the other hand, if you don't feel like you have those skills at all, then by all means it's great to work with a grant writer. It may not be prohibitively expensive, because if you do get the grant then you've already written in that 10-15% for them and you're still getting the grant, so that's a win. If you don't get it you don't have to pay them that 10-15%, so if you do have the extra $50, maybe it's worthwhile to hire a grant writer. But for the most part, I would encourage artists to try to write their own grants.
"Canada Council for the Arts, they reserve 25% of their total budget for first-time applicants, so I always say that if you are applying for the Canada Council for the first time, apply for a big project or for a lot of money because you're much more likely to get it on your first try."
That was very insightful, thank you. One last question that I was just wondering, why do you think some people don't apply to grants? In other words, when SOCAN initiates a grant, do they get as many applicants as they can? And if not, why do you think there is a collection of people who decide not to apply, when it could be relevant to them?
I think there could be a little bit of a stigma about receiving grants. I have artist friends who say "I don't need to apply for grants, I can do this on my own", and that's fine, but I don't think there needs to be any stigma around receiving a grant.
Some artists may not apply because they feel it's too daunting, or they don't want to write an essay, or collect the support material, or they think they don't stand a chance. But what I'd tell artists who might be hesitant, or aren't interested in grants, is that it's actually much easier and more common to get a grant than you might think. For example, the Toronto Arts Council, they frequently give grants to brand-new artists, and people who have little to no experience in the industry. Canada Council for the Arts, they reserve 25% of their total budget for first-time applicants, so I always say that if you are applying for the Canada Council for the first time, apply for a big project or for a lot of money because you're much more likely to get it on your first try.
Motivation can be another issue, and artists tend to be more right-brained more than left-brained, in my experience, and they're not interested in researching all of the different grants, and so it's great if you can get in with a management company who has a grant writer, or if you know somebody who has experience in writing them. This helps the artist realize that it is not so difficult to get grants, and there is so much money in Canada to be given out, like hundreds and millions of dollars per year, for every different level of talent.
Thank you so much Holly, for your insight. We really appreciate it. I think that because most of our community is based in Montreal, and from experience, I know that a lot of artists haven't actually applied for the SOCAN Foundation grants, so I believe this is going to be extremely important information for them to look into, and possibly motivate them to do so.
Thank you as well! Montrealers should look into CALQ grants, because they offer support and funding for art projects in performing arts, multidisciplinary arts, media arts, crafts, and so forth. So please do check them out!